Whether you are looking for advanced software for enhancing your videos or want to find a simple solution for producing short clips for social media, you need to compare the most popular tools in terms of functionality. According to stats, 3.37bn users watch video content online, which is why it becomes crucial to learn how to create it. In this article, we have rounded up the best video editors on the market that enable you to reverse your videos, add text and stickers, as well as tweak colors and adjust other settings to give your footage a professional feel.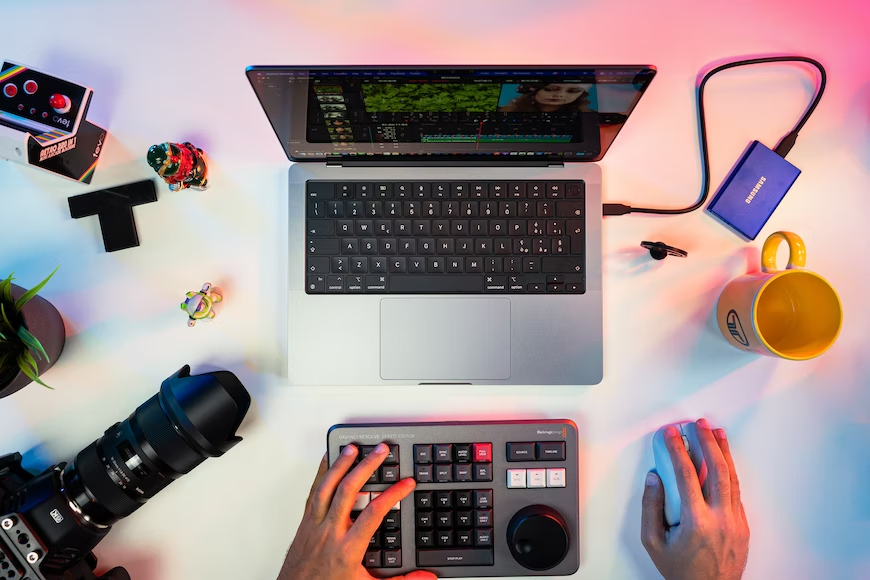 1. Movavi Video Editor Plus
This cross-platform software comes with an extensive toolset that includes filters, transitions, chroma key effects, and motion tracking tools. Using it, you can edit your 4K footage like a pro. It allows you to apply a slow-motion effect or reverse your video to grab the attention of your target audience. You can either pay for lifetime access to this software or use this online video reverser for free to save money. It has a screen-recording feature, which makes it perfect for recording meetings, conferences, and other events.
2. Adobe Premiere Pro
If you have some experience and are ready to pay for the Creative Cloud package, take a closer look at Adobe Premiere Pro. It seamlessly integrates with other Adobe software, including Lightroom, Photoshop, and After Effects.
This program stands out for its extensive choice of effects and transitions. It supports integration with third-party services, which enables you to use a variety of effects. Using it, you can make your business stronger by creating professional videos for promoting your brand online.
3. Blackmagic DaVinci Resolve Studio 18
For basic editing tasks, you can use a free version of this software. It also has a paid version available through a one-time purchase. The program has versions for different platforms and enables you to work with 8K footage. Using it, you can perform color grading and use the Dual Tim feature. The program comes with a set of transitions and smart tools for quick object removal. Thanks to the integration with the cloud, you will be able to access your files regardless of your whereabouts.
4. Adobe Premiere Rush
This cross-platform video editor also has a mobile version, which makes it perfect for those who want to create content for social media on the go. It's fully compatible with other Adobe programs used by creative professionals. Using it, you can quickly create an eye-pleasing video and upload it to social networks.
5. Apple – Final Cut Pro
What makes this program different from some other options on this list is that it supports multi-cam editing, which enables you to use it for more advanced tasks. It has an intuitive interface and delivers a powerful performance. You can use its AI-driven cropping tools to speed up video post-processing. Final Cut Pro supports one-click sharing to social media and features a magnetic timeline, which makes it suitable for professional tasks.
6. HitFilm
This video-editing tool supports motion tracking, which enables professionals to use it for creating top-level movies and other types of video content. You can customize its dashboard to your liking and use its library of effects to give your videos a unique feel. Besides, it allows you to work on 3D projects and apply chroma key effects.
7. Lightworks
Using this video editing software, you can edit footage taken with multiple cameras and perform pro-level color tweaking. It has extensive sharing options and enables you to preview effects in real time. The developers optimize its performance so that rendering happens in the background. It allows you to use it to solve multiple tasks at once. Even if you opt for a free version, you won't need to worry about watermarks in your videos. Another advantage of this software is that it has a huge library of royalty-free media assets.
8. Clipchamp
You can access this popular video-editing service from Google Chrome and Microsoft Edge. It integrates with popular cloud services and enables you to crop, trim, and flip your videos without paying a dime. Besides, you can use it to enhance your videos by applying filters and transitions to them.
9. iMovie
Being one of the most popular programs for editing 4K footage, it is perfect for beginners who are looking for software with a streamlined interface. To speed up post-processing, you can use the available templates and color-grading tools. It enables you to add voice-overs and soundtracks to your clips as well as apply chroma-key effects.
Summing Up
Using the programs described on this list, you can effortlessly edit movies, short clips, trailers, ads, and other types of video content. They are suitable for professionals with different levels of experience, which makes them perfect for basic and advanced tasks alike.